Night Skies Photography Workshop
Free Workshop for Charity
Star gazers keen to pass on their skills with charity workshop
Two men known for capturing Tauranga's night skies are offering a free workshop to pass on their knowledge and feed the hungry.
Astro-photographers Amit Kamble and Jack Burden have each developed a strong social media following for their work. Now they hope to take advantage of that to help Tauranga Community Foodbank with a photography class at the base of Mauao next month.
Mr Kamble said people often asked what settings and lenses they used to capture their starscape images, so he and Mr Burden decided to pay it forward.
"In the past, there were other people who helped us, so we thought it would be a good opportunity to help others out," Mr Kamble said.
Both men have iconic shots of Mauao in their repertoire but Mr Kamble was initially sceptical about it as a location because previous shots were ruined by "horrible" light pollution.
"When you go to the other side of the Mount, the Mount is blocking the city light so you can actually see the Milky Way and stars," Mr Kamble said.
"Then we decided on that event then thought: 'What should we do? Charge people? Make it free?' "
Mr Kamble said they saw Tauranga Community Foodbank was struggling and thought they could use their skills to help the charity as well as aspiring astro-photographers. The men are asking people to come with a cash donation and all proceeds go to the foodbank.
By 5pm on Wednesday they had 67 people going and another 270 interested. Mr Kamble said he and Mr Burden could potentially cap numbers and create a second workshop if numbers continued to swell.
Mr Burden said he and Mr Kamble have been "on a bunch of astro-photography missions" around New Zealand since they bumped into each other trying to get the same photo of the Milky Way over Mauao a few years ago.
"We both have learned a lot from each other and had talked about doing workshops for a while now."
Mr Burden said there were many charities "that we would love to support but the foodbank stood out to me … it just seemed like a great opportunity to help some people and give back to the community".
In the past 12 months, the foodbank has helped more than 16,000 people including 9000 children.
Foodbank chairwoman Sharon Hitchcock said the gesture was a surprise but warmly welcomed.
"We usually get donations throughout the year but it is really quiet at this time of year and we weren't expecting it so it just makes us even more grateful," she said.
By  Kiri Gillespie  Published  Bay of Plenty Times  Friday May 26, 2017
Contact the organizers re future sessions
Check the facebook page
https://www.facebook.com/events/465549890444907/?ti=icl&__mref=mb
or phone 0211591941 to check.
The weather isn't really playing ball at the moment.
Local astro photographers Jack Burden and Amit Kamble are holding a night photography workshop to raise money for the foodbank. Photo/George Novak
Where:
When: If the weather isn't ideal, the event may be moved.
Who: Amit Kamble Photography and Jack Burden Images
Cost: Free
What you need to know: Everyone is welcome whether someone is a beginner photographer, keen astronomer or just wants to enjoy stars and meet like-minded people.
What you need to bring: Photographers will need a tripod and dslr camera to have the best chance of capturing the stars. Dress warmly.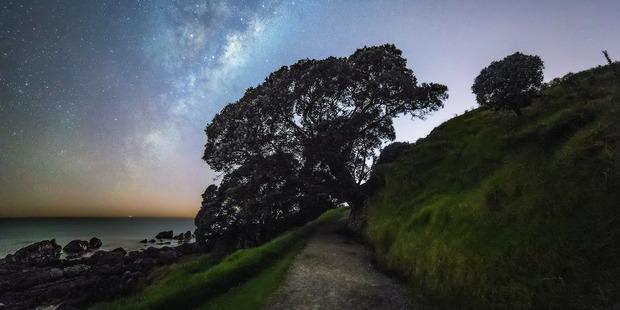 The ocean facing side of Mauao provides a great location for astro photography and will be the spot where local star snappers will offer a free workshop next month. Photo/Amit Kamble Photography