More Learn the Traditional Art of Raranga
Article by Annemarie Quill, Bay of Plenty Times

An exhibition of the work of Te Wananga o Aotearoa ki Tauranga Moana. Photo/supplied
A resurgence in the traditional art of raranga, or weaving, is being reflected by an increase in people interested in learning the craft at the local Wananga O Aotearoa.
Head tutor Bibbins Tangitu has taught raranga for 40 years and says each year there is an increase in students, including men and non-Maori.
"Lately we have had more Pakeha. This year we had two men and next year we have four men. It doesn't matter who you are, if you have a desire to learn that is all that matters."
Bibbins says the resurgence in interest is partly because people are realising what has been lost by traditional crafts no longer being passed down. She herself learned from elders at the marae more than 40 years ago.
"People are waking up to what has been lost. Before it was all in the head and passed on".
A lot has happened and people are doing it hard. There is a revival of interest in finding out about the old ways. This is a course that takes you back in time, you research your people, the way things used to be, and then bring them up to date to now. You get an understanding of things."
Bibbins says many students, although they come to learn about weaving, they find that they learn about themselves.
"A lot of it is a process of healing, because of the nature of material, it is a healing thing.
They learn a great deal about the native plant, about how to grow it and nurture it, and they become aware of the environment around us and how we have to respect and nurture it. It is a very spiritual thing."
First year students learn how to make kete (baskets) for various uses, whariki (mats) wahakura and potae (hats). In the in second year tukutuku, piupiu (flax skirt) and korowai are made.
This month a variety of the students' work was displayed including tukutuku (lattice work panels), kete, korowai (cloaks) and wahakura (sleeping basket), and Bibbins said hundreds of locals and tourists had attended the exhibition which she expected to further fuel interest in the craft.
Attending the exhibition was former student 36-year-old Te Puna mum of three Tarryn Moutere, who graduated last year and has now turned her passion for weaving into a business House of Harakeke, in which she sells artwork by commission. Such is the demand for her pieces that she has had interest not just from within the Bay, but nationally and even internationally.
"There is definitely a resurgence of interest in this type of art. It is unique, so people are not used to seeing it, and as such it intrigues people. It makes an impact in your home.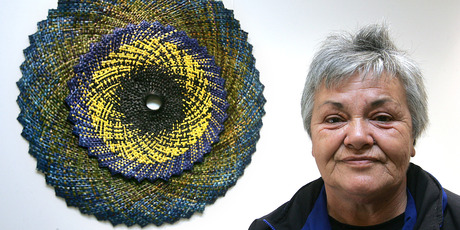 Each piece tells a story, so you can make it very personal. So if you have it hanging on your wall, it is not just for display, it tells part of who you are, and becomes a very spiritual part of your home."
Tarryn agrees with Bibbins that the end product becomes almost secondary to the process of weaving itself.
"It is a very spiritual thing. As it takes time, you spend a lot of time alone doing it, thinking. Over the course I learned so much about myself and what I wanted out of life, and for my family."
One of Tarryn's works is on display and framed at the entrance to the Wananga. A stunning circular work of blues, she explains its story is about Tauranga itself.
"It is about our harbour, its depths and shallows, and the way we are all connected by the water. The sea resonates through all of us, and has a meaning for all of us."
A large piece like that might take Tarryn up to two weeks. She works while her three children, aged 11, 9 and 6, are at school and often works quietly in the night. Like Bibbins, she hopes that weaving will again be passed on to other generations.
"My kids ask for the off-cuts and will sit there doing it with me."
Tarryn individualises commissioned artwork according to the person's story. She is converting her house to incorporate a studio and hopes one day to have her own shop.
"Sometimes working late at night, it becomes addictive. You don't want to stop. It is quiet, you have time to process. I learned heaps about myself. Learning how to weave is a bonus, it helped me see what I want out of life and for family."
GIFTING WORK
Bibbins says students often gift their work to people.
"That's part of it. I tell them that their first pieces, even if they love them, they should give it to others. It is like when you first catch a fish, you should throw it back into the water.
One of the students has made a beautiful cloak which she is gifting to her local marae."
Sharing the skill is also part of helping others heal, says Bibbins' daughter Sarah Tangitu, who having learned weaving from her mother, now also teaches part-time at the Wananga.
Each Friday, Sarah visits the Whare Tauranga emergency housing project on the Strand, and offers to weave with the families there. The Whare 4 Whanau Project, or Whare Tauranga was set up in June to accommodate homeless families in the Tauranga region for a short time.
"When I first went along, there were two families there … one woman sat down with me to weave but the other didn't want to. I told her that was okay it was up to her. But I knew if I could just get her to make one thing.
As we were weaving she approached, and then slowly joined in. I go each week. We might sit in silence or sit and talk. As we weave the women might share experiences, of what happened before they came to the whare, but that is all held in confidence."
Sarah said some of the women who started just making bouquets and flowers ended up by creating wall hangings. "The special thing is they take this to their new whare when they move. It is part of their journey, and tells their story. It is why rananga is so unique for people, it really does reflect your life, what happens, who you are, and who you come to be."
– Bay of Plenty Times 26th November 2016 (Indulge Section)